If it's time to install new flooring in your outdoor space, you have a lot of options. We did some research and here are all the pros and cons of our top six picks. But first, there are a few things you need to ask yourself such as:
Where will this be installed? A covered area or something exposed to all of the elements?
How much are you willing to invest upfront vs pay later in maintenance fees? The cost of composite wood vs tile can vary by upwards of $15 a square foot.
Traditional Wood Deck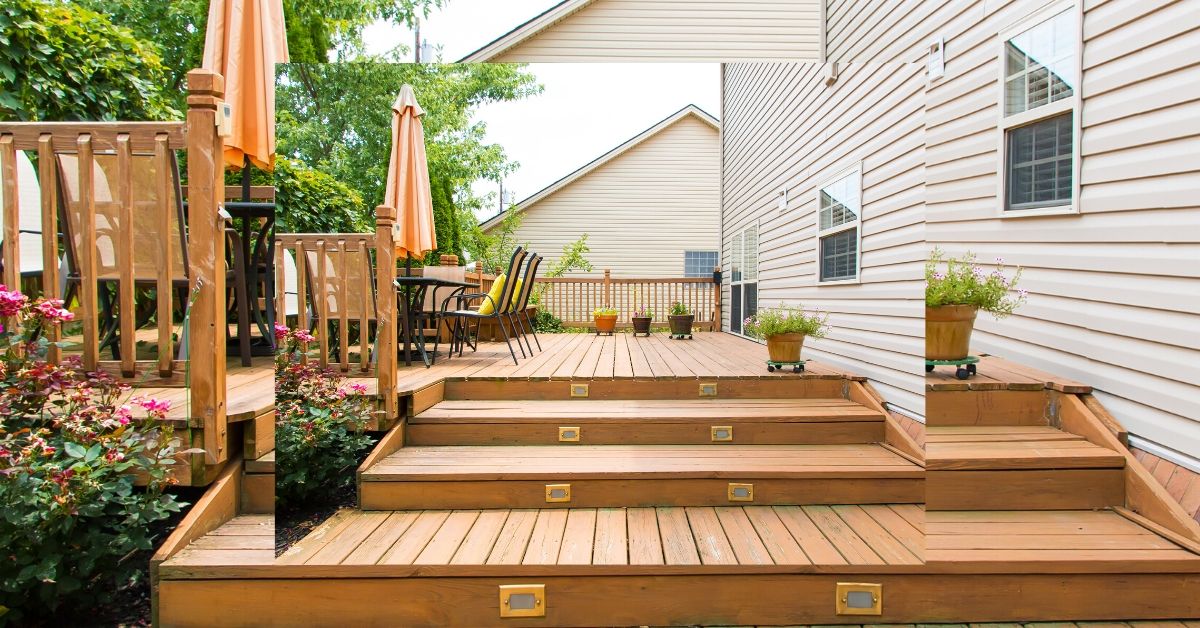 Traditional wood flooring is the most common type of outdoor flooring. Wood decking is extremely versatile. You can choose from a variety of types of wood, sealants, paints and stains, so you can make your traditional wood deck look any way you want from rustic to modern. A wood deck can work on both ground level and on a raised platform.
PROS:
Versatile
Great look
Doesn't retain heat – important if you walk barefoot and have a deck in direct sunlight
CONS:
Expensive
Needs regular maintenance such as sealing and refinishing.
Possibility of termites or wood rot
Composite Wood
Composite wood flooring costs a bit more upfront – about $1-$3 more per square foot depending on the type you choose – but it needs significantly less maintenance, and if you plan to live in your home for the next decade or more, it will save you thousands of dollars in the long term.
PROS:
Fire resistant
Low maintenance
Lower cost
CONS:
Retains heat
Upfront costs
Ceramic or Porcelain Tile
Modern Ceramic or porcelain tiles can look as good, if not better than traditional stone tiles and at a fraction of the cost. One thing to think about is that tile cannot typically be installed directly over wood flooring and would need a concrete base.
PROS:
Cost-Effective
Low maintenance
CONS:
Slippery
Less weather-resistant
Outdoor Carpet
Outdoor carpet can be a great option for enclosed porches or areas that are under cover such as a space under an awning or gazebo.
PROS:
Cost
Comfort
Price
Non-Slippery
CONS:
Not as easy to clean as other flooring methods, especially if you have pets.
Doesn't hold up well in areas that get a lot of water.
Concrete Slab or Concrete Tile
Concrete is a more environmentally friendly option as it is long-lasting and recyclable. You can pour it into tiles yourself or have it done by a professional for a relatively low cost. You can also paint concrete, so you're not stuck with just the raw color of the concrete.
PROS:
Durable
Versatile
Low cost
Environmentally conscious
CONS:
Difficult to have a fresh clean look.
Minimal ways to spruce it up.
Brick
A brick patio can only work on a ground-level surface so it won't work for a raised deck or patio. In addition, you typically need a reasonably flat surface. That said, brick is extremely durable, low cost, and low maintenance. It also looks great!
PROS:
Durability. Brick is one of the most durable of outdoor flooring options
Low cost over the lifetime of the deck when properly installed
Great look
Little to no maintenance
Slip resistant
Environmentally conscious and recyclable.
CONS:
Difficult to remove.
It can become uneven.
Brick can retain water.