Choosing the right chair covers can make all the difference in the appearance and longevity of your chairs. Before making a purchase, it's important to consider the style of your chair, the material of the cover, and any additional features that may be important to you. We are here to help you with understanding all the basics of your requirements, so you can choose the perfect cover for you. 
1. Measure Your Chair
Measuring your chairs is crucial when it comes to buying patio chair covers. Without accurate measurements, you risk purchasing covers that don't fit properly or look awkward. To measure your chair, use a measuring tape to measure the width of the chair from arm to arm and the depth of the seat cushion from front to back, accounting for any decorative arms or legs. 
Once you have these measurements, you can start shopping for custom chair covers that fit your chairs perfectly. Remember to check the manufacturer's size chart before making a purchase to ensure a good fit. With the right size and style of chair covers, you can protect your chairs from spills and stains while also adding a stylish touch to your decor. Explore different colors, materials, and patterns to find the perfect chair protectors for your chairs and your home. 
2. Consider The Style of Your Chair
If you have a traditional chair, slipcovers are a great option as they are loose-fitting and can easily be slipped over your chair. They come in a range of materials, colors, and patterns to complement the style of your chair and home decor.
For modern chairs, fitted covers are the way to go. These outdoor chair covers fit snugly over your chair and give it a sleek and streamlined look. You can choose from a variety of materials, including stretch fabrics that conform to the shape of your chair for a perfect fit. 
Regardless of the style of your chair, a cover can protect it from spills, stains, and wear and tear. Take the time to consider the style of your chair and choose a cover that enhances its beauty and keeps it looking great for years to come.
3. Choose The Right Fabric
The fabric you select plays a crucial role in durability, comfort, and ease of cleaning. Cotton and linen are durable, breathable, and great for extended use. Polyester is wrinkle-resistant, easy-to-clean, and ideal for high-traffic areas or homes with kids or pets but may not be as breathable. To ensure comfort, go for a fabric that feels soft against the skin.
Cotton and linen are excellent choices that keep you cool in summer, while polyester blended with cotton or rayon can be comfortable too.
Lastly, consider the cleaning process when choosing a fabric. Cotton and linen are machine-washable, while polyester can be spot-cleaned or wiped down. Choosing a fabric that is both durable and easy to clean will help you enjoy your chair seat covers for years to come. Therefore, it's essential to weigh all these factors before picking a fabric for your chair cover.
4. Pick A Color or Pattern That Matches Your Decor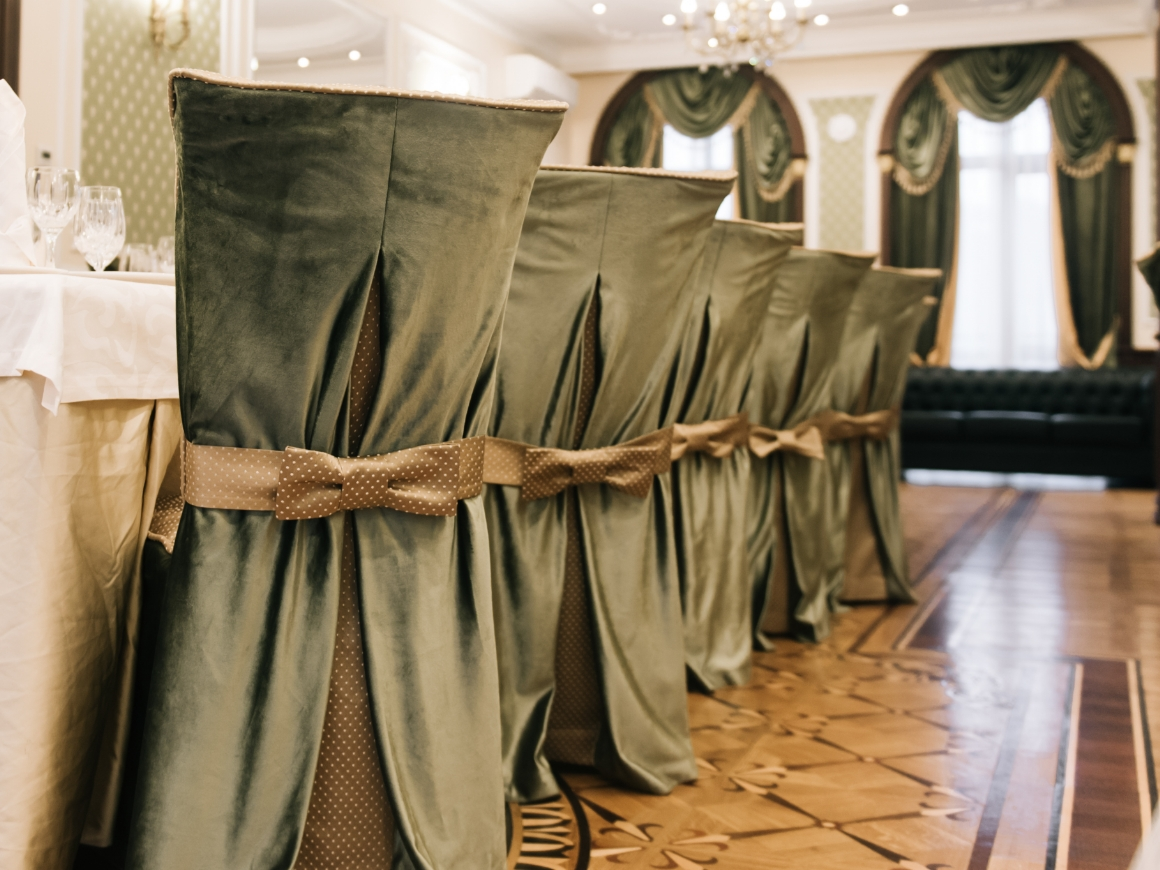 The right color or pattern can make all the difference in tying the room together. One option is to personalize chair covers that match the color of your walls or curtains, creating a cohesive look. Alternatively, you can choose a pattern that includes a few of the colors in your room, making the chair cover a subtle but important element in your decor. 
If you prefer a bolder look, consider choosing a chair cover with a contrasting color or pattern. For example, if your room is mostly neutral, a bright and bold chair cover can be a fun and unexpected addition. On the other hand, if your room already has a lot of patterns, a solid color chair cover may be a better choice. Whatever you choose, make sure it feels like a natural part of your room's overall style. 
5. Decide On a Budget
Shopping for chair covers can be an exciting but overwhelming task. One of the most important things to consider when buying chair covers is your budget. Chair covers come in a range of prices, so it's crucial to decide how much you are willing to spend before beginning your search. 
Having a budget in mind will help you focus on the options that are within your price range, making the process more manageable. It can also prevent you from overspending or making an impulsive purchase that doesn't fit your financial plan. By setting a budget for your chair cover purchase, you can confidently shop within your means and select a cover that fits both your style and your wallet.
6. Look For Additional Features
Never overlook additional features that can make a big difference in the functionality and comfort of your cover. For example, a non-slip backing can help keep your cover securely in place, preventing it from sliding around or bunching up. If you have kids or pets, waterproof chair covers can be a lifesaver for preventing spills and stains from ruining your furniture. 
In addition to practical features, you may also want to look for a cover with extra padding for added comfort and support. This can be especially beneficial if you're using the cover for a chair that you sit in for long periods of time, such as a desk chair.
Ultimately, the additional features you choose will depend on your specific needs and preferences. Consider what will work best for your lifestyle and choose a chair cover that will meet those needs while still looking great in your space. 
7. Read Reviews
It's important to make an informed decision by reading reviews from other customers who have purchased the same product. Reviews can give you a better idea of the quality, durability, and comfort of the chair cover. They can also help you avoid any potential issues that other customers may have encountered, such as poor fit or difficult cleaning.
When reading reviews, pay attention to any common complaints or issues mentioned by multiple customers. While surfing chair covers for sale, look for reviews that provide specific details and give an honest assessment of the product. If there are a lot of negative reviews, it may be best to choose a different chair cover.
Reading reviews is a great way to ensure that you are getting a high-quality chair cover that meets your needs. Don't skip this important step in the shopping process! 
Let's Summarize It
Choosing the right cover for your chair is essential for both the appearance and longevity of your chairs. By following these 7 methods, you can easily choose a seating cover that will protect your chair from spills and stains while adding a stylish touch to your decor.  
Remember to measure your chair accurately, consider the style of your chair, choose the right fabric, pick a color or pattern that matches your decor, decide on a budget, look for additional features, and read reviews before making a purchase.
With the right size, style, and fabric, you can ensure your chair cover is both comfortable and durable. So, start exploring different colors, materials, and patterns to find the perfect covers for your chairs and your home. Shop with confidence knowing you have all the tools necessary to make an informed decision. 
Written by Coversandall Editorial Team.