Have you ever walked into a beautifully decorated room/restaurant/or any event with all the luxurious amenities and then your eyes land on the table, only to be disappointed by the old and worn-out appearance? It's like a strike in the perfect ambiance. That's why it's essential to pay attention to every detail when it comes to decorating your space.
A great decor isn't complete without a well-maintained table. It's where we gather to share meals, laughter, and memories with our loved ones and even have great business deals. So why not make it look as good as the rest of the space? A table adorned with some fresh flowers, or even a new set of placemats can make a significant difference. With a well-dressed table, you'll be able to enjoy your surroundings even more. This guide will ease your selection procedure and help you find the perfect table linen so that your table exudes elegance and looks absolutely great all the time. 
Table Cloth
A tablecloth is a single-piece cover that completely transforms the look of the table, making it flattering and appealing. Simply throw the cover on the table and you will have a completely different appeal. It will gather in the corners which you can simply fold over under the edge for a prim appearance. With exact measurements, you can have them tailor-made for comprehensive coverage and precise fitting. However, owing to their design, they are not snugly fitted.
Highlight: Its adjustable length can accommodate different table sizes, with the ability to tuck corners underneath. If you are unaware of the dimensions of the table, this piece of fabric will be your lifesaver.
Challenge: If the tablecloth is excessively large for the table, then it can appear untidy and drag on the floor.
Fitted Table Covers
Fitted table covers are one-piece slip-on covers that come with corner pleats, making it both practical and easy to set up display tables. The covers can be custom-made to fit your table's exact size, offering a neat and professional look that won't slip off. Additionally, the fitted table covers are available in custom-printed fabric, with the option of an open back. Splash some text or your brand image/logo/name and you will have your personalized table cover ready for your big event.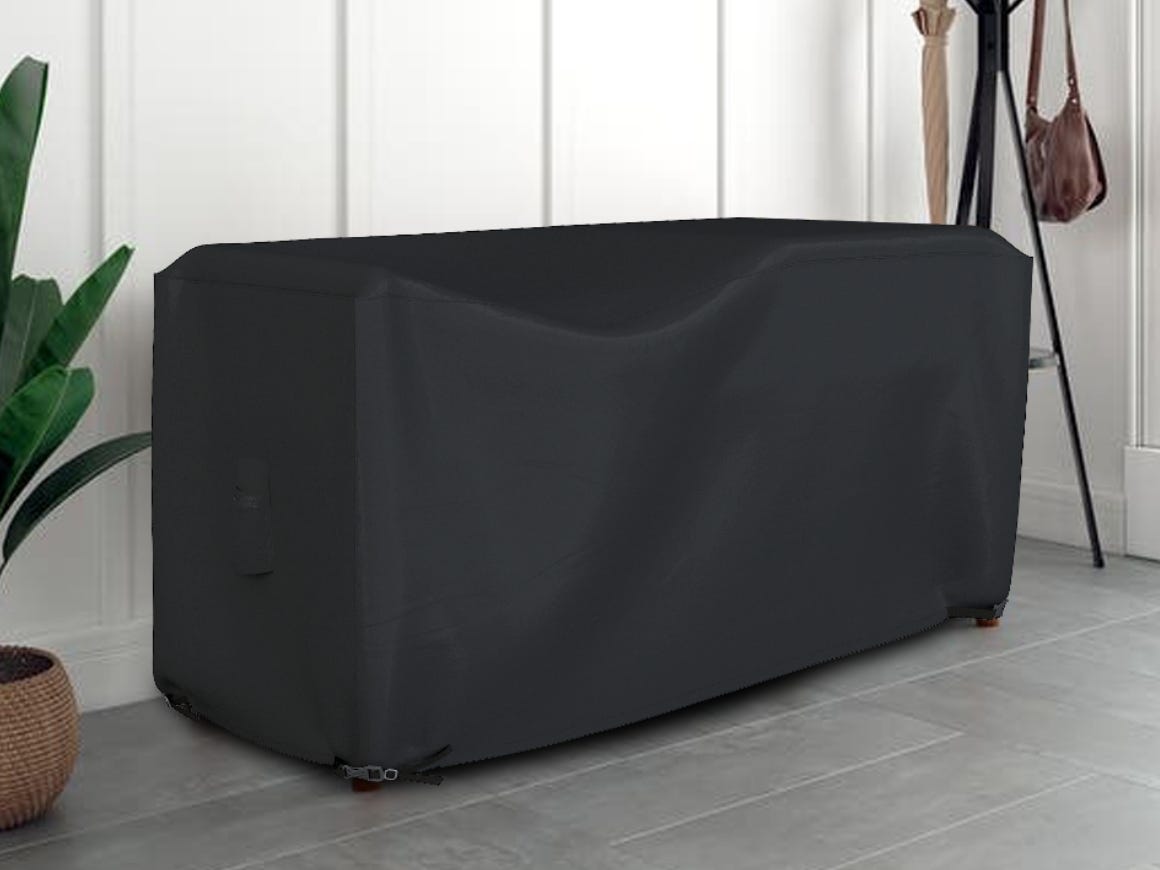 Highlight: The tailored fit provides a sophisticated, professional appearance, with no fabric dragging on the floor.
Challenge: As these covers are custom-made to fit the specific table size, they cannot be used for different table sizes. If you frequently attend events with various table sizes, this option may not be suitable for you.
Table Runners
Table runners come in various styles and can be used in multiple ways. When personalized, these table runners add life to any event. You can use them creatively for labeling or advertising your brand or product. You can print your logo horizontally over your table runner to ensure that your branding is visible to everyone at the event.
Highlight: Table runners provide an easy and cost-effective way to customize or enhance the appearance of your table. They can be used with any size or style of table skirt or cover.
Challenge: Table runners have a small footprint and may not cover the entire table. However, you can have a customized size to solve this challenge.
Table Skirt
Table skirts are a single piece of pleated fabric that attaches to the outer edge of a table using either table clips or staples. They do not cover the top of the table, so an additional piece of fabric is recommended. While convention centers often use them during trade shows, they are also an excellent option for adding a touch of elegance to any table. You can even customize the height and length of the skirts to fit any table.
Highlight: Table skirts provide a formal and traditional appearance, elevating the look of any table.
Challenge: Skirting the table requires additional time and products such as table toppers/vinyl toppers and table clips.
Spandex Table Cover
Spandex table covers seamlessly and quickly cover your table. They offer a snug fit to the table, adding a sleek and professional appeal. The fabric does not wrinkle and hence makes for a quick table makeover. However, they are semi-disposable and might need replacement after a few uses. If you are an avid user and have to use table covers frequently for your events or shows, this cover might not be your best choice. 
Choosing the Perfect Table Cover
Selecting the right size and tablecloth for your table is a straightforward process. The key is to choose the ideal fabric with the correct size for your table linen, regardless of its shape – be it square table covers, rectangle table covers, round table covers, or table cloth. 
Step 1:Determine Your Table Size
Identifying the size of your table is a crucial step in selecting the appropriate outdoor table covers. This will help you determine the style you need for each table setting. Measure both the length and width of the tabletop. 
You will need to measure the following:
Length of the tabletop
Width of the tabletop
Height from tabletop to the floor
Step 2:Choose Your Desired Table Cover or Tablecloth
Do you want your tablecloth to hang down to the floor? Would you prefer a 12″ drop or a 15″ drop? Deciding how far you want your tablecloth to hang will determine the size you need.
Step 3:Choose the Appropriate Table Cover Size
After measuring the table and determining the desired drop length, it is time to choose the right size tablecloth. Measure the table from edge-to-edge and then choose the table cover. If you have a unique size table, then you can opt for custom table covers. 
Step 4:Choose the Color of Your Table Cover
The color of your table cover can be determined by the type of event or occasion you will be hosting. The color of your tablecloth sets the mood you want to create, adds to the theme of the room, and can bring life to a dull table setting.

Tip: If you plan to use your chosen table cover for the long term and multiple events, it's best to select neutral colors such as white, black, ivory, beige, taupe, or dark brown. This will ensure that the tablecloth can be used for various occasions over an extended period.
Step 5:Determine the Table Use
If Your table will be used in open spaces, then always choose a waterproof table cover to have a worry-free outdoor setting. Waterproof covers are great table protectors that do not let rain, snow, or even harsh UV rays damage the newness of the cover. This way you can use them for years to come.