Everyone knows that lawn furniture covers provide the ultimate in backyard protection, yet not everyone considers the aesthetic appeal they can offer your outdoor lifestyle area. No matter what design scheme you've implemented in your backyard living room, everything from chair covers to fire pit covers to custom covers of all shapes and sizes can be color coordinated for maximum aesthetic appeal without sacrificing protective performance.
Monogrammed Masterpiece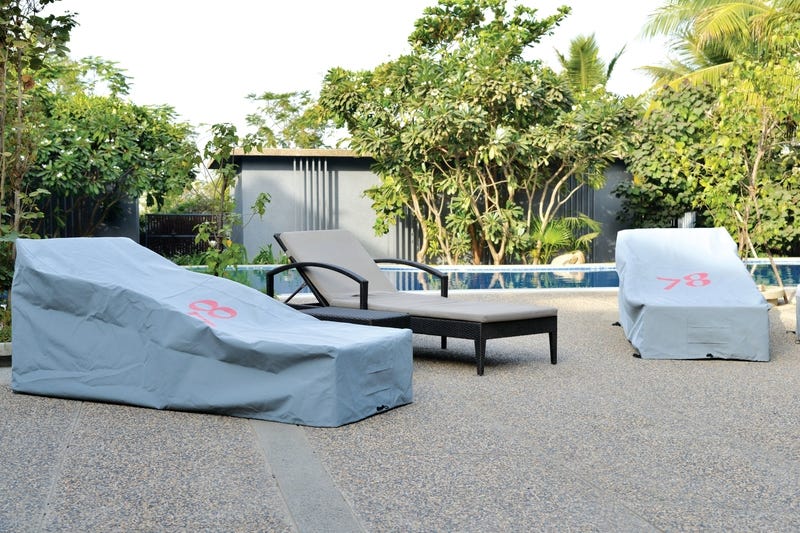 Your design schemes are the highlight of your home. They serve as a reflection of your unique personality, creativity, and ability to think outside the box when it comes to making a visual statement.
Because your taste level plays such an integral role in your backyard design scheme, there's no doubt that you're always searching for new and exciting ways to put the "you" in your unique stylings. Integrating monograms into your design scheme is the simple solution to adding a personal touch where it's needed most.
From chair covers to fire pit covers, the sky's the limit when it comes to monogramming. Whether you choose your married initials in a modern block font or the family monogram rendered in elegant vine script, adorning your lawn furniture covers with your name creates a backyard that's uniquely yours.
And you don't have to stop with custom covers. Personalizing accessories such as barware, cooking instruments, and outdoor storage solutions with a monogram creates cohesion with your personalized covers. You can even make monogramming your outdoor accessories a DIY activity the whole family can get in on.
Color Palettes, Perfected

Studies in color psychology have proven that the hues you utilize in design play an invaluable role in setting tone and striking visual appeal. Curating a cohesive color palette for your backyard living room is a crucial task, but not one that's as intimidating as it may seem.
Remember studying the color wheel in art class? Complimentary colors are a staple in all fields of design and is a useful guideline to follow when coordinating accessories, such as an L-shaped sofa cover, with the rest of your outdoor living room.
Opposites Attract

Utilizing opposite color schemes in your exterior design may seem counterintuitive, but many have found beauty in this approach. This involves pairing together colors that are opposite from each other on the color wheel like blue and orange to create a contrasting yet visually pleasing aesthetic. Having a color wheel handy when brainstorming a new color scheme can help you visualize the palette of your dreams.
Perfecting your desired color palette ahead of time helps speed up the process of choosing custom covers. Whether you go with earthy tones or brighter, more vibrant hues, your outdoor living room's furniture covers will thrive when a cohesive color scheme is implemented throughout the space.
Accessories Are Everything

When it comes to a backyard design refresh, don't underestimate the power of accessorizing. Adding even the smallest of accoutrements to your outdoor lifestyle area opens up a world of matching possibilities.
Accessories such as planters, lanterns, and accent tables can be coated with outdoor paint to coordinate perfectly with your chair covers. Design experts suggest sticking with neutral colors for larger items such as custom covers while saving brighter shades for accessories, allowing them to pop more.
Outdoor curtains are another accent piece perfect for a color match made in heaven. A navy blue L shaped sofa cover can be paired with white pillows curtains with matching navy polka dots is just one of the countless other color combinations that makes decor synergy simple.
Seasonal Swaps

One of the most exciting aspects of home design is being able to switch up decor at the start of every season or when a new holiday is on the horizon. This is especially true when it comes to your backyard living room, where aesthetic variety is the spice of life and celebrations are abundant.
Custom covers are the anchor of any outdoor design scheme, and being able to stay on top of seasonal changes is key. Therefore, customization should be your top priority. Special touches like holiday themed graphics will transform an otherwise generic cover into a seasonal sensation that will be sure to set the mood for any holiday, from four leaf clovers to spooky pumpkins.
Changing up the color scheme for every season is another way to help keep things fresh. Winter is the perfect time for covers and accessories in shades of blue and grey, while the arrival of spring calls for pastels. Having a wide selection of lawn furniture covers to choose from gives you the freedom to switch things up whenever the seasonal fancy strikes.