Your bbq has been serving up delectable meals for years, making it the go-to companion for summer cookouts and parties. Offering you numerous delicacies and the aroma of sizzling food being a quintessential scent of the season, grilling has the potential to become a beloved backyard tradition. Not only is it a delicious way to prepare food, but it's also a fantastic excuse to gather with loved ones and soak up some sunshine on those long summer afternoons. 
BBQs are built to last while they are not immune to inclement weather. The harsh weather can bring destruction to your beloved patio and outdoor equipments. Even the best bbqs succumb to damage which once were roaring flame and offering you scrumptious meals. Hence after the damage, we are left with just two options: either replace the bbq every season it gets damaged or mend it. Fixing the bbq might seem a viable option but it can be a bit pricey.  
If these are the signs you see on your bbq while it's not performing well lately, then it's high time to repair or replace them immediately: 
Severe grease and debris build-up 
Uneven heating 
Low temperature 
Low flaming or non-flammable 
Fugitive emissions (gas leakage) 
Flames or heat emanating from the edges of the burner in a substantial manner. 
Different coloured flame (most likely- yellow or orange) 
Broken regulator (controls gas flow) 
Cracked Hoses/fuel lines 
Flawed, broken, or filthy venturi tubes 
Extreme surface deterioration 
And if you want a permanent solution to prolong its life, here is the ultimate guide on how to protect your BBQ to last long.
1. Cover it Up!
An immediate road map to protect your barbecue is by covering it with an outdoor bbq cover. It's a great way to protect your BBQ from rust and other significant hazards. The built-in bbq covers are specifically designed to withstand rain, snow, dust, debris, and harsh UV rays. 
Should You be Using a Regular Outdoor BBQ Cover or a Customized One for Your Outdoor BBQ Protection?  
Keeping your bbq covered after every use is a smart move that can help extend its lifespan by reducing exposure to the elements. However, it's important to note that a regular bbq cover isn't foolproof in rainy, intense UV rays, or high-humidity areas (as moisture can still seep in and cause rust over time). While using a cover is certainly a step in the right direction, it's crucial to understand your weather patterns and buy a bbq cover accordingly. 
Waterproof BBQ Covers: Custom waterproof BBQ covers are an essential accessory for anyone who wants to keep their bbq in excellent condition for years to come. These covers are designed to protect your barbecue from rain, snow, and other harsh weather conditions, preventing rust and other forms of damage.  
They come in a variety of sizes and styles to fit different types of bbqs, and many are made from durable materials that can withstand the elements. By investing in a high-quality waterproof bbq cover, you can ensure that your bbq stays in top shape and is ready to use whenever you need it. 
Standard Size BBQ Covers: Standard-size BBQ covers are designed to fit the most common bbq models on the market. They offer a convenient and affordable solution to protect your BBQ from the elements when not in use. When choosing a standard-size bbq cover, it's important to ensure that it fits your bbq snugly and that it's made of high-quality materials to ensure it lasts for years to come.  
Custom-Size Barbecue Covers: Custom BBQ covers are an excellent choice for those who have a unique or non-standard bbq size and want a perfect fit. These covers can be tailored to your exact specifications, ensuring that your bbq is fully protected from the elements.  
Be it small BBQ covers, large BBQ covers, charcoal bbq covers, or big egg bbq covers, these BBQ covers for patio offer a snug fit that leaves no space for outdoor elements. While they may be more expensive than standard-size covers, the peace of mind and protection they provide make them a worthwhile investment for any bbq owner.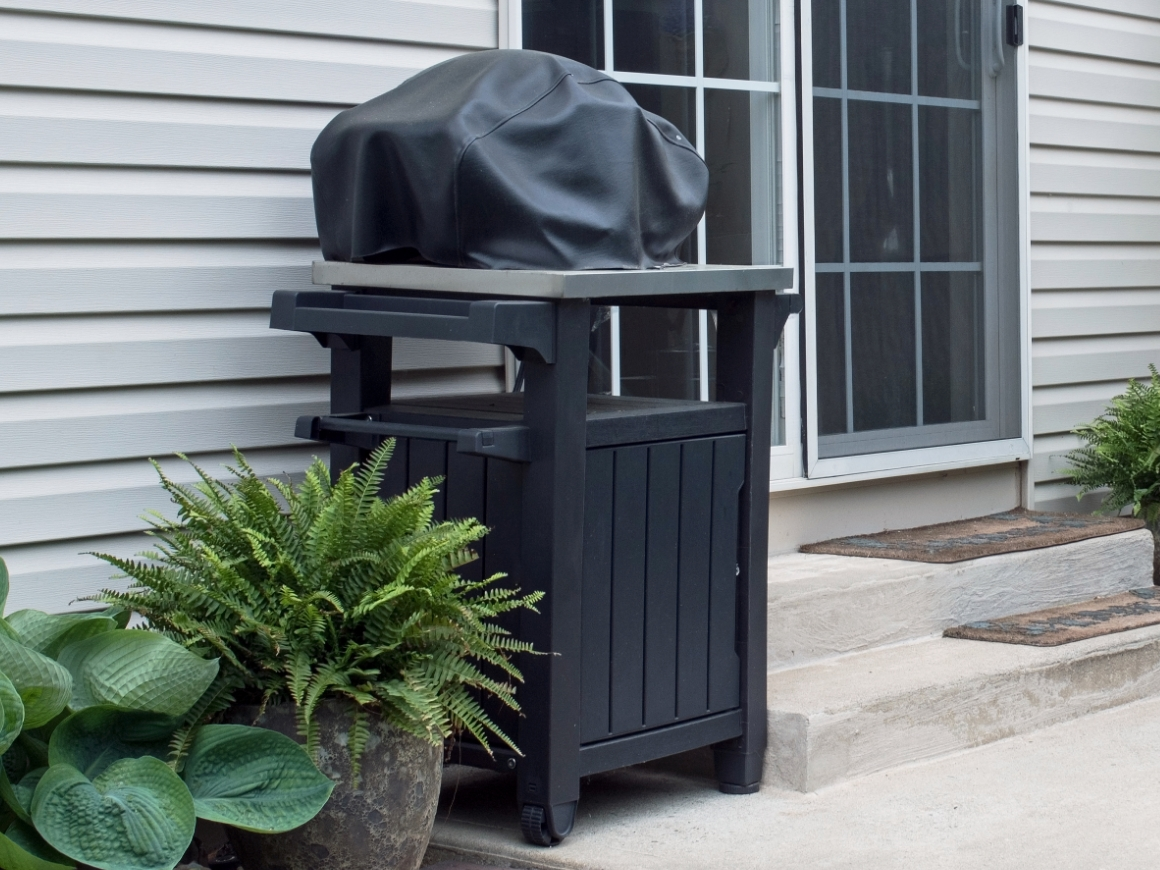 2. Keeping a Clean Environment
To prevent rust formation and extend the lifespan of a bbq, there are a few measures to follow. One of the most crucial tips is to clean the bbq after each use. The accumulation of food and grease can damage the grates and internal components, corroding the bbq over time. It's also advisable to periodically clean the entire bbq from top to bottom, both internally and externally. For hard-to-reach areas, use a sponge, warm water, and mild soap to ensure the bbq stays spotless. 
3. BBQ Grates
BBQ grates are a crucial component of any barbecue setup, as they are the point of contact between your food and the heat source. Different types of grates absorb oil differently and neglecting them can lead to rust and the accumulation of old food, resulting in a thick, black coating. Over time, this can cause the grates to weaken and crumble. Proper maintenance and cleaning of bbq grates are necessary to prevent these issues and extend their lifespan. 
4. Appropriate Storage
Storing your bbq rightly during harsh weather conditions and winter months is essential for its longevity. If you have a storage building or garage with adequate space, it's an ideal location to store your bbq. Even if you plan to bbq during the winter, it's still advisable to store your bbq properly and make it easily accessible when you're ready to use it. This will help preserve your bbq for future use. 
5. Maintaining a Dry Environment
It's important to ensure that the bbq is completely dry after cleaning. This practice will not only keep your bbq factory new but will extend its lifespan. Moisture is a significant threat to your bbq, and any opportunity for it to accumulate can cause damage. When cleaning your bbq, pay special attention to the interior and ensure that it is thoroughly dried, as accumulated water can lead to corrosion. 
Regular cleaning and proper protection measures can help maintain your bbq's longevity. Rust can be challenging to remove once it has formed, making preventive measures crucial to preserving your investment. After all, you've likely invested a significant amount of money in your barbecue, and it deserves to be protected accordingly.