Best Custom Cover Solutions for Outdoor Patios, Fire Pits, TVs, Machines, and More
Orders Over $100
10% OFF on Heavy Duty Tarps!
Max discount $50
OFFER VALID THROUGH November 30, 2018
Free Shipping on Orders Over $99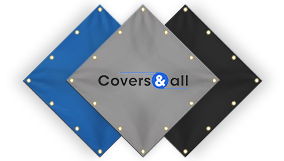 Personalized Covers from Covers and All
Need a Custom Cover?
We cover anything! Don't see the cover you need? We can create a custom cover for any size and shape. Our custom-made covers protect your belongings from harsh weather conditions and fit like a glove. We have a wide selection of fabrics and colors to suit any taste. Personalize your covers with your logo or name as well!
Click for Custom Covers
We value your trust
Our Customers Speak for Us!
Exactly as I knew they would be
-Daniel i.
I was very reluctant to order my spa storage cover. Had never done this before, but now days there are few canvas and awning shops around that custom build to specification. And if you do find one, the prices are incredibly high! Anyway, I made the o...
-JOHN S.
I made a small error in measuring and only realized it after I had ordered it online. I spoke with customer service right away and they were able to make the correction. The cover arrived in a timely manner and fits perfectly!
-Lisa P.
Fits perfect and does the job.
-Anne M.
I originally ordered covers for our Pottery Barn Indio patio furniture from Frontgate. Two weeks later, I got an email telling me my order was delayed more than 4 weeks! I cancelled the order and found Covers and All online. I put in my specs, got ...
-Tom G.
I wanted a good cover for my portable generator, but at a reasonable price This cover is better made and higher quality then anything I could find on the internet made to the size I needed. Its so good I am ordering more covers for other machines a...
-Gerald B.
Custom covers are made very well and fit to the measurements that you give them.
-Tom C.
The material is heavy duty and the measurements were exact. Got the cover very quickly and their customer service was quick to adjust the order at my request (changed color) after I placed the order.
-Marianne D.
Needed a custom cover for a fire pit recently built. Perfect fit. Very happy with the purchase.
-Paul M.
This is the first real cover I have had for my outside condenser. Love that you could get it made to the exact measurements. Fits great, great price. Glad I found Covers&all.
-Cindy B.
4.6

Overall Satisfaction Rating

Based on

2042

Rating from actual customersRead All Reviews
We Cover Anything!
Browse by Category