Your car is more than just a means of transportation; it's a symbol of your style and investment. However, the elements can take a toll on your vehicle's appearance and performance. That's where outdoor car covers come to the rescue. In this comprehensive guide, we'll explore the top options for all-weather protection in 2023, ensuring your car stays shielded from rain, sun, snow, and more. 
Understanding the Need for All-Weather Protection
Scorching sunlight that fades your car's paint, heavy rainfall that leads to rust, icy winters that affect your car's performance – all these scenarios underline the importance of all-weather protection.  
When your car is exposed to the elements, it becomes vulnerable to a range of issues that can impact its appearance and longevity. The best outdoor car covers act as a dependable barrier, shielding your vehicle from rain, snow, UV rays, dirt, debris, and more.
Material is the Game Changer
The choice of material for your custom outdoor car cover is a fundamental consideration that significantly influences its overall performance and durability. When it comes to outdoor protection, not all materials are created equal. Commonly used materials include polyester, polypropylene, and microfiber, each offering distinct advantages in shielding your vehicle from the elements. 
Polyester: Polyester is renowned for its exceptional strength and durability. Its tightly woven fibers provide a robust barrier against various weather elements, making it an ideal choice for hatchback car covers. Polyester car sun protectors can withstand harsh conditions, including wind, rain, and sun exposure, while maintaining their integrity over time. The material's resistance to tears and abrasions further ensures your car remains well-protected. Truck covers would benefit the most from such features as they are parked in rough terrains.  
Polypropylene: On the other hand, boasts impressive water resistance. Its hydrophobic properties repel water effectively, preventing moisture from seeping through the vehicle cover. This is particularly crucial for safeguarding your car's paint and interior against rain, snow, and other forms of moisture. Polypropylene covers are also known for their lightweight nature, making them easy to handle during installation and removal. 
Microfiber: Microfiber is celebrated for its softness and breathability, making it an excellent choice for a sedan car cover that offers protection without compromising your car's finish. The fine fibers of microfiber prevent scratches, ensuring your vehicle's paint remains untouched even during windy conditions. Additionally, microfiber covers often come with specialized finishes that enhance UV protection, further extending the life of your car's exterior. 
Only Waterproof Covers Can Shield from Unpredictable Rain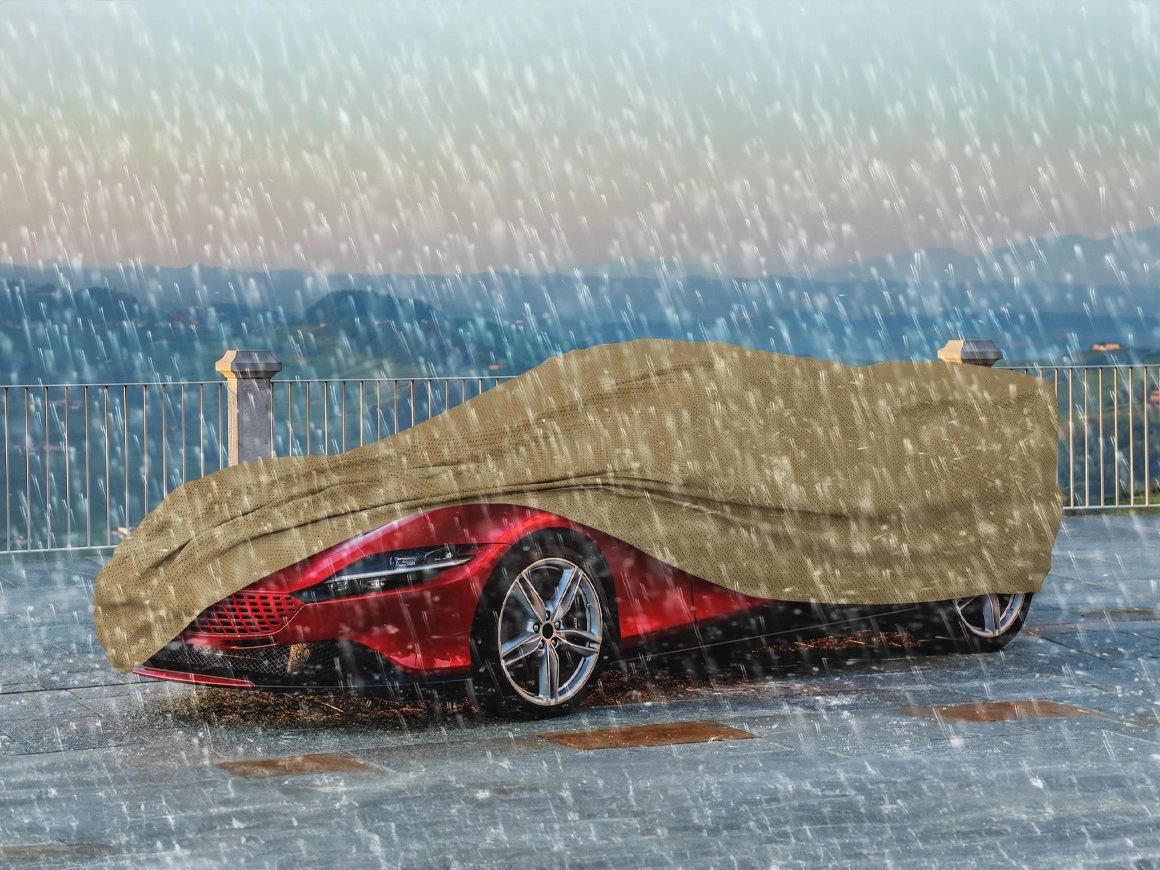 One of the primary functions of waterproof car covers is to shield your vehicle from rain and moisture. A cover that is waterproof or water-resistant coating is an essential feature to ensure that rainwater or any form of liquid doesn't permeate the cover's surface. This is especially beneficial for sports car covers that makes a heavy dent in your pocket for repairing small scratches.  
By creating a barrier against water infiltration, these vehicle covers prevent moisture from reaching your car's paint, which could lead to rust, corrosion, and paint damage over time.  
With water resistance at the forefront, your car remains safe and dry even during heavy downpours or extended periods of rain. Get the protection that you require by using van covers and keep your vehicle safe from water damage.  
The Glaring Sun Can Damage the Vibrant Hues of Your Car
Just as UV rays pose risks to your skin, they also pose threats to your car's exterior and interior. Prolonged exposure to sunlight can cause your car's paint to fade and its interior materials to degrade.
A custom cover designed for your car with UV protection acts as a shield against these harmful rays, deflecting and absorbing UV radiation before it reaches your vehicle's surfaces.  
By doing so, it helps preserve the vibrancy of your car's color and prevents premature aging of interior components, ensuring your vehicle maintains its value and aesthetics over time. This is prominently beneficial for SUV car covers that are designed for outdoor parking due to their size and build.  
Breathability is Essential for Preventing Static Electricity Buildup
While protection against external elements is crucial, a proper outdoor car cover must also address the potential issues that can arise from trapped moisture underneath. Breathability also prevents the buildup of static electricity from direct exposure to the sun.
A breathable cover allows air circulation, facilitating the escape of moisture vapor and preventing condensation from forming. This feature is pivotal in preventing mold, mildew, and rust from taking hold beneath the cover.
By maintaining a dry environment under the cover, you ensure that your vehicle remains free from potential damage caused by trapped moisture.
You can invest in breathable dog car seat covers to ensure your ride is pet friendly for your furry buddy. This makes the journey comfortable for your companion.  
Customize the Size for Foolproof Protection
A car cover's fit is more than just aesthetics; it's a vital aspect of its protective capabilities. A well-fitting cover not only enhances the overall appearance but also prevents potential abrasions caused by loose material flapping in the wind.
Custom-fit covers are designed to match the contours and dimensions of your specific car model, ensuring a snug and secure fit.
This tailored fit not only keeps the cover in place during adverse weather conditions but also prevents any movement that could potentially scratch your car's surface.
Buy car covers online from the comfort of your home. All you need to do is search for the make, year, model, and brand of the car to determine which cover would be appropriate for your vehicle.  
You can look for offers or car covers for sale to reduce the amount significantly. Find budget-friendly covers that can be a great asset for protective your expensive vehicle.
Conclusion
In conclusion, the selection of material, water resistance, UV protection, breathability, and custom fit are pivotal factors to consider when choosing the best outdoor car cover for all-weather protection. Each of these elements contributes to the cover's ability to safeguard your vehicle against rain, sun, moisture, and potential damage. By understanding these features and their importance, you can make an informed decision that ensures your car remains in excellent condition and retains its value for years to come.
Written by Covers & All Editorial Team.